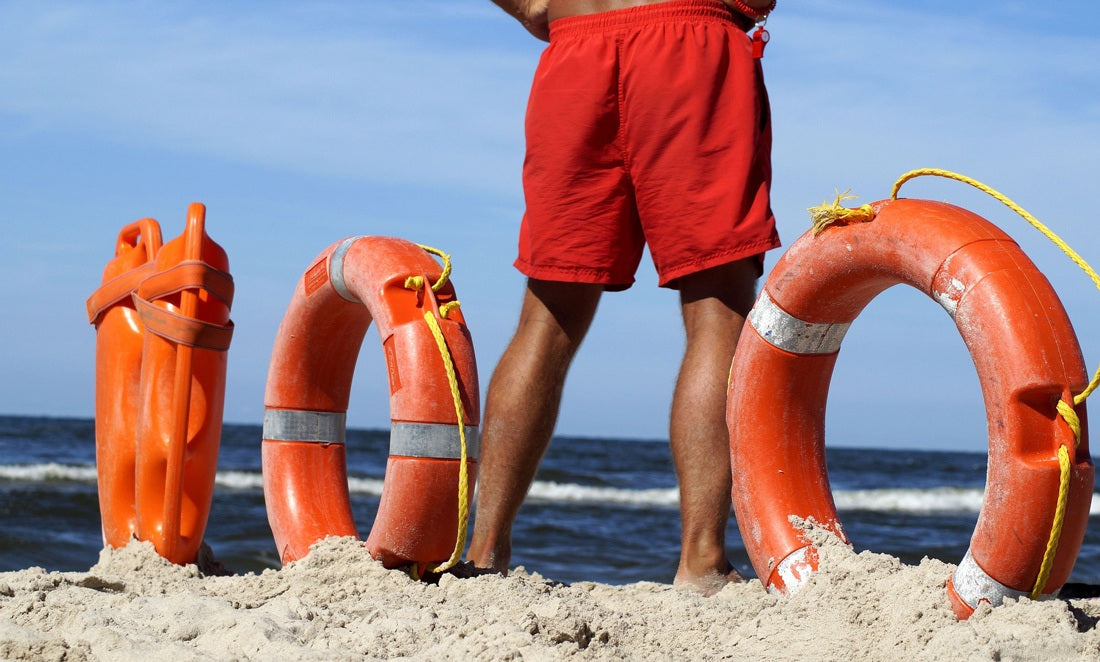 WHAT EXACTLY IS A RESCUE CAN?
AND WHAT KIND OF RESCUE CANS ARE AVAILABLE FOR SWIMMERS?
When swimming, stand up paddling (SUP) or on a boat one needs to be aware of possible dangers. A rescue can is a safe bet. Making preparations and having the right equipment protects your own personal safety as well as other people's when being in serious trouble. Rescue cans are often used and very effective, especially when saving others. In the following article we provide important information about rescue cans, their use and the different types available. We also talk about alternatives to the "classic" rescue can and what they have to offer to ensure safety especially for swimmers.

Content:

1. What is a rescue can?
2. Why does it make sense to carry a rescue can when in the water?
3. What are the systems and which rescue cans are available for swimmer and other water-related sports?
WHAT IS A RESCUE CAN?
Most people know rescue cans from TV. The rescue can is Malibu's lifeguards' symbol, well known from the popular TV show Baywatch. The series' stars Pamela Anderson, David Hasselhoff, Carmen Electra and Dwayne "The Rock" Johnson always carry the flashy red torpedo-like Baywatch buoy with them.
A rescue can is a piece of lifesaving equipment used when rescuing in water. They are a very effective tool ensuring your safety during an emergency.
The Baywatch rescue can at a glance
1. lenght 60cm (23,6 inchs), a diameter of 15cm (6inchs) with two handles
2. weight about 1000 gramms (2,2 lbs)
3. rigid plastic container, partially foamed
4. somehow bulky, needs lots of space
5. using it properly needs practice, lifeguard training makes sense
WHY IS IT REASONABLE TO CARRY A RESCUE CAN WITH YOU?
Having buoyancy always makes sense, non-regarding your personal fitness or how well you swim. Dangers in water are unpredictable – currents as well as waves and wind are often changing rapidly. As a common side effect, you start panicking. When in panic, it is quite impossible to concentrate and you loose much more energy.

Therefore, one tires out quickly. A buoyancy device such as a rescue can or an inflatable tube can ease the situation immediately. The additional buoyancy helps you to relaxe, to recharge your batteries and find orientation again. Once the situation has improved, you may swim back calmly or wait until someone comes to help.
Primarily rescue cans are an important piece of equipment for lifeguards. Available in many versions, almost all rescue organisations include it as part of their basic equipment. Rescue cans simplify the rescue of persons in danger since they can be passed on easily towards the accident victim as long as she or he still is conscious. This enhances the rescuer's safety.

All persons, even children, develop enormous forces when panicking and – rather unintentionally – impose a danger by pushing the other person underwater. That is actually the reason why almost a quarter of all people drown while rescuing other people. It is thus an almost compelling necessity for lifeguards to always carry a rescue can with them.
The DLRG's rescue cans
The German association DLRG also uses rescue cans in their work. In this video they demonstrate how to use the rescue can in an emergency.
Are there certain standards for rescue cans?
To put it in a nutshell: no, there aren't. That's why there is no CE marking on rescue cans. Every organisation uses its own best solution for external rescuing. The spectrum is almost as wide as people or regions are or even waters: the open sea, a river or a lake, shallow water, waves or currents. Different scenarios or situations require a different approach.
WHAT ARE THE ALTERNATIVES TO THE CLASSIC RESCUE CAN WHEN SWIMMING OR DOING OTHER WATER SPORTS?
The Baywatch rescue can is most evidently for external use. Its size makes it rather bulky and somehow inconvenient, though. Whoever is looking for a useful rescue tube when swimming or practising other water sports, might be better off with an inflatable system. Inflatable buoys usually are much smaller (when not inflated) and thus less cumbersome to carry. They also exist in very durable materials nowadays.

There are quite some options offering buoyancy like a classic rescue can, among them Restube. Our system is applicable to all leisure as well as sports activities in and on the water. Also professional rescue teams worldwide use Restube.
What is Restube and why isn't it a traditional rescue can?
The Restube idea tackles the problem of drowning much earlier than the classical rescue can. Not at the drowing scenario, not at the helping person. The active person in the water carries the Restube permanently along with him/her. Restube is your personal airbag when in water. Whenever being in a critical situation (or seeing someone else in danger), you just pull the trigger and the Restube inflates. You immediately have buoyancy for yourself or someone else. A CO2 cartridge inflates the buoy within seconds. You don't have to rely on someone else being aware of your situation, neither do you have to panic or desperately wait for help.
"I got the idea for Restube when facing a dangerous situation while kite surfing on the Atlantic ocean. I lost my equipment in really big waves and had to swim ashore, it seemed like an eternity to me. That was the first time I really felt panic. After some weeks the idea of Restube war born. I was still studying mechanical engineering then, and we tried to develop a system combining both a small size and solidity. So far, Restube has already saved 40 lives. We are very happy about our impact on making water activities for everyone safer."

Christopher Fuhrhop

Founder and CEO of RESTUBE
Similar to the rescue can the Restube's buoyancy immediately eases the situation. You just lean over the buoy which keeps your head above water level and allows you to breath normally. It also enables you to gain time, swim back to shore, pass on the Restube buoy or seek for help if needed. Restube's yellow colour helps you to catch attention. Most versions of Restube include a whistle you may use.
What's so special about Restube?
The best safety system is the one you always have with you. That's why Restube was developed light in weight and compact in size. Trouble-free during your sports activity, it can easily be carried on a belt around the waist or attached directly to your equipment. The most compact version is Restube beach. It's even lighter than your cell phone with its 190grs. All Restubes are weightles in the water and have no water resistance when swimming (when not inflated). You can also dive easily through waves.
Restube at a glance
1. Yellow flotation buoy made of life vests material
2. Enough buoyancy to keep you afloat
3. Extremely small packed in a pouch
4. CO2 cartridge can be replaced after pulling the trigger
5. Can also easily be inflated with your mouth
6. Doesn't disturb you while practising sports
7. Different versions available for different applications
Which Restube version is best for me?
When choosing your favourite activity on the homepage, you get an overview on the products suitable. You may also find important details and instructions on the different Restube buoys. Please get in touch with us should you have any questions or might need assistance regarding the selection: hello@restube.com
Is Restube suitable for professional rescue?
A lot of professional lifeguards make use of the classic Restube in order to have additional buoyancy in the event of a problem. Depending on the region, the common techniques and requirements different rescue cans with taglines are used. In addition to the Baywatch buoy made of hard plastic, a rescue strap made of soft rubber foam is often used.
RESTUBE also offers a special system for professional lifeguards. Restube lifeguard was developed as a result of the cooperation with the Swiss lifeguarding association SLRG. Today, more than 5000 Restube lifeguards are used on duty all over the world. Here's an example from India.

Have a save and great time in the water!

Your Restube team