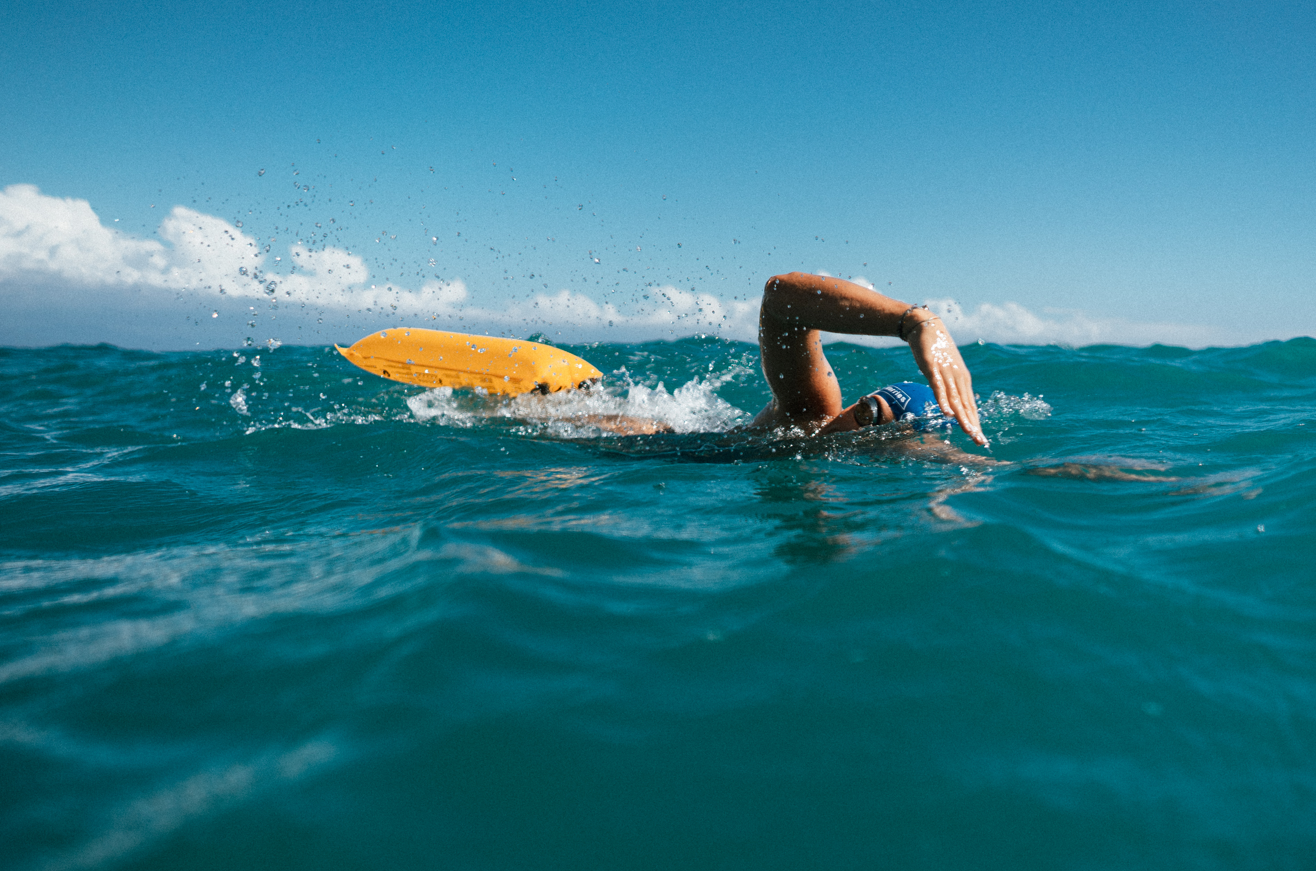 MORE FREEDOM & WATER SAFETY FOR SWIMMING
Swimming in open water means freedom
Whether ambitious in open water training and competition or simply gliding through the water to relax with the feeling of weightlessness. In order to be able to fully concentrate on the movements and fully enjoy the moment, you need to be well prepared! Know your own limits and the conditions of the water. For your own safety and that of others – swimming partners or even strangers, e.g. in the lake – always wear a restube around your waist.
It is weightless in the water
and, thanks to its vertical installation, has no measurable flow resistance. If you need additional buoyancy for yourself or someone else, all you need to do is pull the trigger and the buoyancy buoy inflates in seconds. Many also use Restube to be even visible with the inflated buoy. Enjoy your swimming adventure with Restube one stroke at a time!
Our Recommendation for
Swimming
All products from Swimming
"Despite the escort boat, you swim out there alone. Restube helps me keep my focus while swimming. The super small system has no flow resistance and is weightless in the water. A pull on the trigger inflates the yellow Restube buoy in seconds, which gives me an even better feeling."

Nathalie Pohl

Open water swimmer
"Security is important to me! In training, I rely on a small, but in an emergency, vital product from RESTUBE. I won't go into the water without my pocket-sized buoy! We wear a helmet on the bike too, right?"

Matheus Kozlowski

Triathlete
"For me, swimming in open water means freedom without limits. Restube allows me to swim further and longer."

Loic Branda

Olympic swimmer
Frequently asked questions
When you need a boost for yourself or others, pull the trigger. The sealed CO2 cartridge is pierced and fills the buoy in seconds. If you lean over the Restube buoy, it will lift your head out of the water. You can also wave the buoy to attract attention.
Yes, by replacing the CO2 cartridge, Restube is immediately ready for use again.
If you lean over the buoy, Restube lifts your airways – in other words, your head up to your mouth opening – out of the water. The part from the head to the mouth is about the same weight for most people. That means it is independent of the height or weight of the user. For more comfort through more buoyancy, Restube active or extreme is recommended.
The idea of Restube came to founder Christopher Fuhrhop after a difficult situation in the water. From the University of Karlsruhe (KIT) he developed the idea up to the prototype and piece by piece his own production was set up in cooperation with experienced production partners in Karlsruhe. Function and the highest quality are priority factors without losing sight of sustainability.
all the information you need
Learn about your Restube
What is a swimming safety buoy?
A swimming safety buoy is carried when swimming in open water. The buoy increases your safety – and that of the other swimmers – tremendously. At RESTUBE, we specialize in water safety products. The Restube buoy – there are several variants for private use, as well as models for professional rescue – is a safety buoy stowed in a pouch that is attached to a strap worn around your waist. If you are in open water and pull the trigger, a screw-in CO2 cartridge inflates the buoy in seconds. The buoy provides you with extra buoyancy so you can rest and regain strength. You can also draw attention to yourself with the buoy by waving it or passing it to another person. Additional buoyancy in the water often immediately defuses a risky situation. A swimming safety buoy can be the most important accessory in open water swimming, just like a helmet is in cycling.
When should a swimming safety buoy be used?
A safety buoy should always be with you while swimming in open water. It is a very essential accessory for your safety during open water swimming. Restube is a buoy stowed in a pouch that is inflated only when needed by pulling the trigger and activating the CO2 cartridge. You can use the swimming buoy by RESTUBE if you want permanent visibility while swimming in open water, either for boat traffic or for other swimmers. It can be inflated via a mouth valve and – just like Restube – is attached to a strap and worn around the waist. It also provides you with an integrated waterproof compartment to store the essentials. For your safety and the safety of everyone else in the water: carry a safety buoy when open water swimming! You wear a helmet when you ride a bike, don't you?
What are the advantages of a swimming safety buoy?
Swimming safety buoys greatly increase the safety of swimmers in open water. This is because they provide you with extra buoyancy whenever you need it. You can also hand over the buoy to a person in need. Additional buoyancy in open water can often resolve an unsafe situation immediately. A swimming buoy also gives you visibility. This way you will be seen by other swimmers or boats. Lifeguards and emergency services will also be able to spot you more easily. You can choose safety buoys that you inflate only when needed, like Restube. A screw-in CO2 cartridge inflates the buoy after you pull the trigger. Restube is small and convenient in a pouch attached to the strap around your waist. With Restube, you can still enjoy full freedom of movement. If you would like permanent visibility during open water swimming, then use the swimming buoy by RESTUBE. You can inflate it using the mouth valve and pull it behind you with hardly any resistance while swimming. It also has a waterproof dry compartment where you can store useful items like keys or energy bars or even running shoes. No matter which model is suitable for you, don't go without this essential accessory for your safety in the open water!
Where can you buy a swimming safety buoy?
You can buy a swimming safety buoy in the water sports department at sports stores and right here at www.restube.com. We specialize in safety products for the water. With Restube we offer an extremely small and lightweight system. The buoy is packed in a pouch, which you wear on a strap around your waist. If you need additional buoyancy, pull the trigger and a screw-in CO2 cartridge will inflate the Restube buoy. Restube is already available in over 25 countries. Our Store-Finder provides you with a good overview. You can also write to us and tell us your location, and we can tell you where the nearest retailer is. Perhaps one of our many events will take place close to you, where you will have the opportunity to try out Restube. Write us at hello@restube.com.
How is a swimming safety buoy attached?
The RESTUBE safety buoys are attached to a strap around the waist. This means they have no measurable resistance in the water and provide you with full freedom of movement. You won't notice the compact system stowed in a pouch on your strap during your activity, but it will give you peace of mind knowing that extra buoyancy is just a pull of the trigger away. There are other methods of attaching swimming safety buoys, such as to your arm. But in our opinion, these have many disadvantages and limit you while swimming. For this reason, all Restube models for private use have a strap to make the open water accessories as comfortable as possible for you.
What color is a swimming safety buoy?
Swimming safety buoys are available in different colors, usually yellow or orange, sometimes red. This enables the buoy to provide a good contrast with the water, ensuring good visibility. Buoys from RESTUBE are yellow and are easy to see. Reflective strips can be added for swimming at dusk or at night. RESTUBE buoys are perfect for your safety when swimming in open water or triathlons.
How is a swimming safety buoy tested?
Safety buoys must pass an entire series of tests. The most important is certainly the practical test. Here at Restube, we work with several water sports enthusiasts who use our products during their activities and provide us with valuable feedback afterwards. In this way, we can ensure that our safety buoys optimally meet the requirements of the respective target group.
What is the best way to store a swimming safety buoy?
It is important for you to store your swimming buoy carefully so that you can have fun with it for a really long time. Restube is designed to last a very long time and can be triggered up to 100 times depending on the model. So what needs to be considered? After using your Restube, hang it out to dry, separating the buoy and the pouch. If you have used it before in salt or chlorinated water, rinse it with clean water so that there is no residue. As soon as all the components are dry, put the buoy back in the pouch according to the instructions and store it in a dry place until its next use. You can also find detailed information about the care and maintenance of your Restube on our blog.