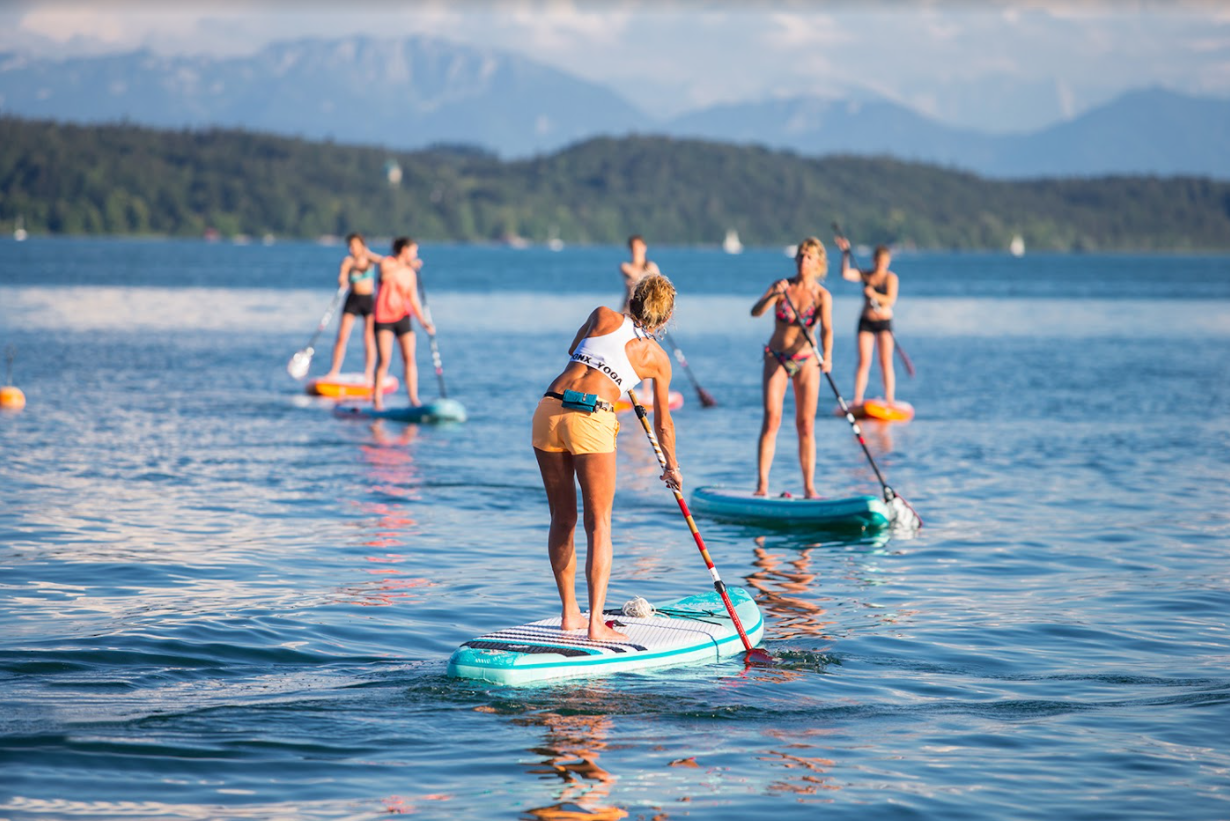 MORE FREEDOM & WATER SAFETY FOR STAND-UP PADDLING
Stand-up paddling is big fun!
Are you also out there with your SUP on the lake, in the river or even in waves at the ocean? Then be sure to do your research about the spot and its local regulations concering SUP. With Restube on your belt you have additional safety for yourself and others. You stay completely flexible and it gives you buoyancy in seconds whenever you need it. Also with the inflated Restube you can swim very fast and it does not disturb you by getting back on your board.
You can also
use the Restube belt to attach your SUP leash directly to it. Enjoy more freedom on the water with Restube to have more paddling fun!
Our Recommendation for
Stand-Up Paddling
All products for Stand-Up Paddling
"I think it's impressive that such a small bag brings so much added value! And because it's so compact, I always have Restube with me."

Kimo Kersting

Professional Stand-Up Paddler
"Restube is the ideal companion for every stand-up paddler. As an SUP blogger, I know how important reliable safety equipment is and therefore recommend Restube to my readers!"

Max Kuch

Founder of www.stand-up-paddling.org
"Restube is our guardian angel on the water! High quality safety equipment in sports is a must and with Restube we can always have it with us!"

Carmina & Octav

Stand-Up Paddler
"With Restube as a back-up, I can concentrate fully on the moment at my Open Ocean Races. So I feel free and ready to give my all."

Sonni Hoenscheid

SUP world champion
Frequently asked questions
When you need a boost for yourself or others, pull the trigger. The sealed CO2 cartridge is pierced and fills the buoy in seconds. If you lean over the Restube buoy, it will lift your head out of the water. You can also wave the buoy to attract attention.
Yes, by replacing the CO2 cartridge, Restube is immediately ready for use again.
If you lean over the buoy, Restube lifts your airways – in other words, your head up to your mouth opening – out of the water. The part from the head to the mouth is about the same weight for most people. That means it is independent of the height or weight of the user. For more comfort through more buoyancy, Restube active or extreme is recommended.
The idea of Restube came to founder Christopher Fuhrhop after a difficult situation in the water. From the University of Karlsruhe (KIT) he developed the idea up to the prototype and piece by piece his own production was set up in cooperation with experienced production partners in Karlsruhe. Function and the highest quality are priority factors without losing sight of sustainability.