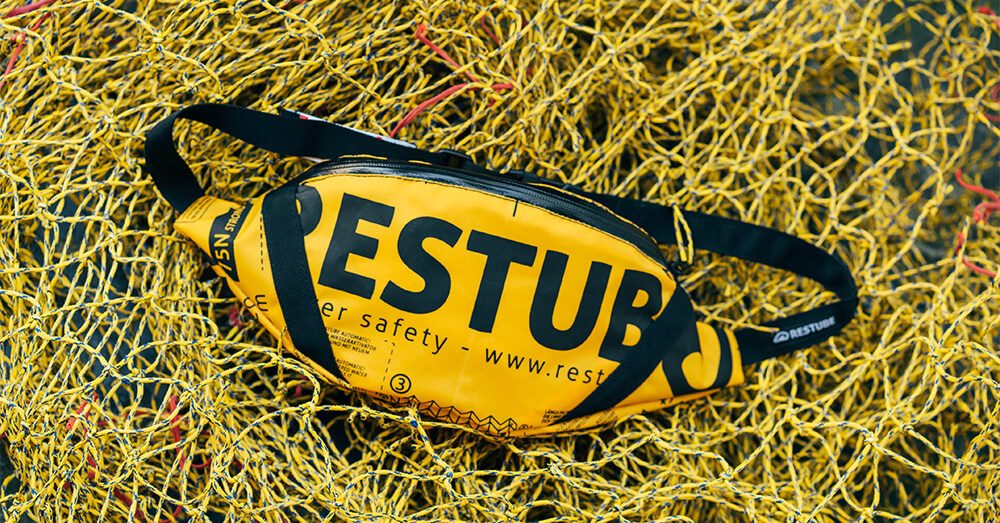 BUMBAG BY RESTUBE X BRACENET
RETIRED RESTUBES GET NEW LIFE AS HIP FANNY PACKS
The safety of all people in the water is our primary goal. The company Bracenet fights for the safety of the oceans and for them to be freed from plastic waste. So we couldn't have asked for a better partner for our first upcycling product. Together we are launching the Bumbag by RESTUBE X Bracenet, a water-resistant fanny pack with character.
Each Bumbag is unique and only available in a limited edition
With much love and by hand, the discarded Restube buoys are processed into the fanny packs in a small sewing shop in Hamburg. Depending on the possibility of cropping, there are deviations in the logo representation. This makes each Bumbag a real unique piece! By the way, the original Restube belts are also reused. The cord of the waterproof zipper is made of old fishing nets that would otherwise threaten the seas and marine life as ghost nets.

The Bumbag by RESTUBE X Bracenet is available as a limited edition of only 100 pieces in total at RESTUBE and Bracenet. In the RESTUBE online store you can also find the Bumbag in an attractive bundle with Restube beach, Restube active and Restube extreme.
Support and benefit from our upcycling program!
We want you to have fun with your Restube for a long time. Safety is our top priority. Therefore, we process materials of the highest standard. Nevertheless, UV light and water affect the textile over the years, so we recommend a service life of 5 years – if care is taken and maintenance instructions are followed.
Rolf from Baden-Baden recently wrote to us about his order:

"I have had my first Restube for over 5 years now. I use it every year in open water from May to October at least 5 times a week for a few hours. … Restube has given me an insane amount of freedom and security when swimming in many lakes. Since then, the big, open water is my terrain again (and the cramps apparently have such respect for Restube that they no longer dared to haunt me). After so many years and uses, I'm now treating myself to a new Restube."
If your Restube is already so old or needs to be replaced due to intensive use, please do not throw it in the trash. We are happy when we can create something new from it! So feel free to send us your worn-out Restube and tell us about your experiences with it. This not only motivates us enormously, but also provides very valuable information for our development department before it goes to upcycling. We will thank you with a 30% discount on the purchase of a new Restube product in the RESTUBE online store. Please write us briefly in advance at: hello@restube.com. Thanks a lot!
"Save the seas. Wear a net" – that's Bracenet's slogan, and the Hamburg-based start-up actually means it very literally. This is because marine plastic consists largely of lost or discarded fishing nets, so-called ghost nets. Bracenet has declared war on such nets! Together with partner organizations, they salvage the nets or take them directly from fisheries and clean them in an environmentally friendly way using only water. Then they upcycle the nets by hand in their Hamburg workshop to make new products such as bracelets (the "bracenets"), keychains, dog leashes, mask necklaces and much more. That means that with every Bracenet product, like our shared Bumbag, you're actively doing your part to protect our oceans. You can find out more about Bracenet here.