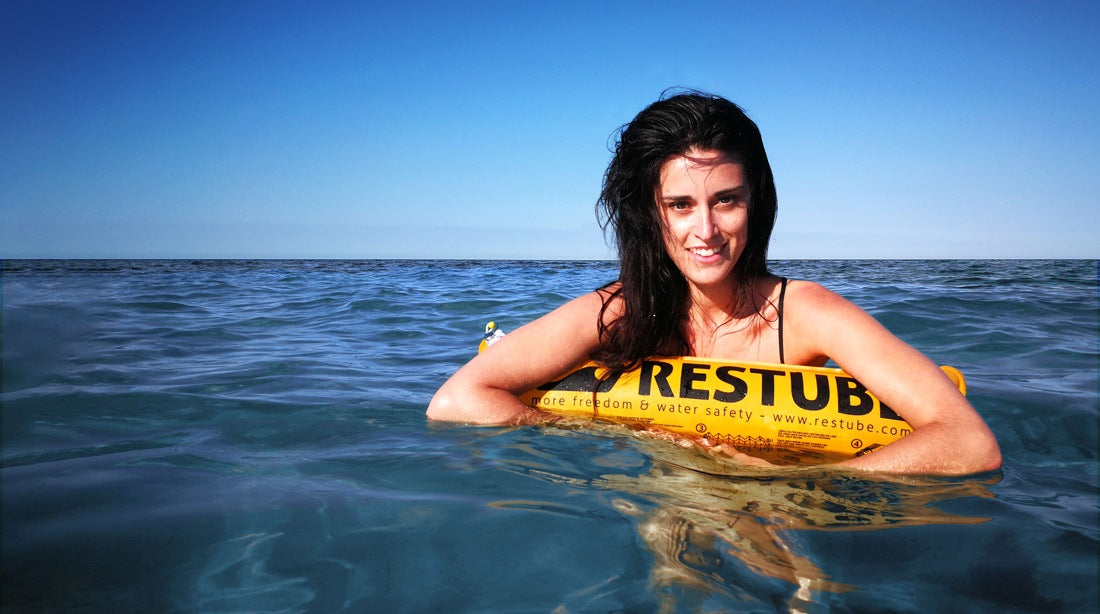 THE RESTUBE FOR THE WHOLE FAMILY
So far, Restube has been a popular water safety system, especially for athletes such as open water swimmers, triathletes and kite surfers. In addition, more and more lifeguards around the world are using the special "Restube lifeguard". "Restube automatic" is being used to protect drones or for water rescue with drones, but also by fire fighters and police. Restube beach is a new version: smaller, lighter, cheaper – the perfect safety back-up for leisure activities in and on the water.
Restube is increasingly used by families. The products Restube basic (€ 59.95) and Restube classic (€ 74.95) are particularly popular. With Restube beach (€ 49.95), RESTUBE now offers an alternative product with the same function and in the usual high quality. However, the design has been simplified and the size reduced, which allows a cheaper price.
FOR WHO IS RESTUBE BEACH SUITABLE?
Restube beach is ideal for families, children and elderly people for leisure activities on and in the water. It is also suitable for stand-up paddlers in swimwear during summer, in case there are no other swimming aid regulations.
HOW MUCH BUOYANCY DOES RESTUBE BEACH OFFER?
Restube beach has a buoyancy of 50N, which corresponds to about 5kg. This buoyancy is sufficient to keep an adult person afloat. Previous Restube products have a buoyancy of 75N (7.5 kg). Tests have shown that this buoyancy is – in calm conditions and swimwear – enough for even two people to relax in the water. Restube beach is equipped with a 10.9g CO2 cartridge, the conventional Restube products with a 16g cartridge.
WHAT ARE THE DIFFERENCES BETWEEN
RESTUBE BEACH AND RESTUBE BASIC OR RESTUBE CLASSIC?
Restube beach comes – like all Restubes – with the proven Restube technology and function. The bag also has a RESTUBE Ready connector so that it can be attached directly to RESTUBE Ready equipment. As with all Restubes, the included belt is already threaded in and the cartridge is screwed in so that you can get started straight away. The Restube beach buoy has a length of 50 cm, while the previous Restube buoys (Restube basic, classic, swim, sports) have a length of 70 cm.
Recommendations for Restube beach