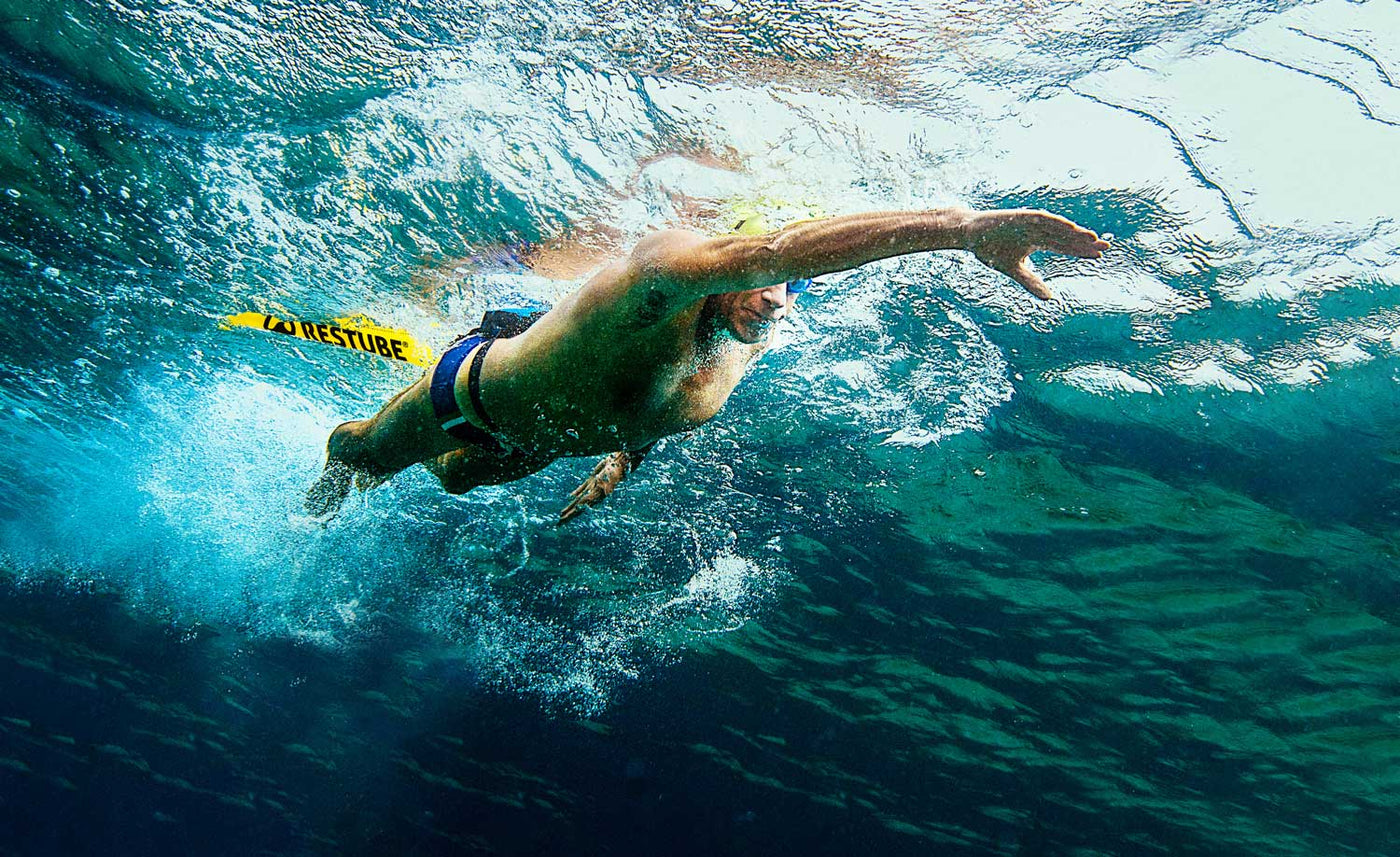 HOW TO OVERCOME THE FEAR OF SWIMMING
FOR MORE FUN & WATER SAFETY
Finally summer! Finally swimming time! Swimming in the lake, river or the sea is a natural part of the most beautiful time of the year for many of us. But what if the fear of swimming in open water is holding you back? The view into the black water, the knowledge of deep places where you can no longer stand, and the vastness of the ocean can be quite intimidating.

The fear of water can become a real phobia. It can severely limit us, as we cannot enjoy the wet element to the fullest. Paradoxical: the human body consists of about 70% water and yet water can cause serious panic.
Fear of water
Fear of water: the technical term for this is aquaphobia. The term is composed of the Latin word "aqua" (water) and the Greek word "phobos" (fear). The causes are diverse. The discomfort in the water can be a trauma that was often triggered in childhood. It is important to look for and analyze the source of anxiety: when did it first occur and why? Most of the time, fear focuses on the possibility of drowning in deep water. Was water inadvertently swallowed while swimming, which caused shortness of breath? Or did you see someone else who almost drowned? It is also possible that the fear of water was transmitted by the parents.

As different as the triggers are for fear of water, so diverse are the symptoms. Trembling, soft knees, tightness, heartbeat and panic attacks can be experienced.

Does this sound familiar to you or do you know someone suffering from fear of water? Or does even the mere reading of these lines cause you unease? Then we have good news for you: with the right preparation, some courage and patience you can manage to overcome your fear of open waters! And you can help others, too! However, everyone has to find their own way and their own pace to deal with the fear of swimming.

With our 10 tips, we want to show you how to overcome the fear of swimming. So you not only have more safety in the water but also MORE FUN!
10 tips for more safety in the water
We have put together 10 tips for more safety in the water for you. Follow these rules and prepare yourself for a great swimming experience.
1. What are your limits?
Only go into waters if you can swim safely and feel good. Never with a full or empty stomach. And do not overestimate your fitness. Slowly increase the duration of your stay in the water.
2. How you can improve your swimming technique
With training under the guidance of trained swimming instructors, you can quickly improve your swimming technique. The right technique will take away your uncertainty and give you confidence in your abilities. In Germany, the local groups of the DLRG provide detailed information about the offer in your region. You can find the DLRG groups for the six largest cities right here:
Berlin
Hamburg
München
Köln
Frankfurt
Stuttgart
You can also find further tips to improve your technique on Youtube. We picked out for you two videos:
3. Do you know the waters well enough?
Inform yourself about peculiarities such as danger spots, currents, shipping, nature reserves or prohibitions. The more you know about the water, the better you can assess whether it fits your abilities and is suitable for you.
4. Do not swim alone and inform your friends
Never go alone in the water and inform your companion about your fears and insecurities. So not only are you better protected, but your fellow swimmers are also well prepared. This allows them to react more quickly and more purposefully and to help if necessary.
5. First swim near the shore, that gives you security
Before venturing into deep water, gain enough experience and gain confidence in areas where you can stand.
6. So you can keep a clear view
The water reflects the sun stronger than you think. Especially when the sun is low, it's possible that you cannot see anything for a moment. Therefore, use a tinted swimming goggle. It also protects your eyes from dirt and dirty water.
7. How can you orient yourself?
Trees, towers, flags or similar distinctive landmarks can help you orient yourself in the water and not lose your orientation.
8. The weather forecast
Inform yourself about weather, waves, currents and wind forecasts. In thunderstorms and strong currents staying in the water is very dangerous.
Take special care when swimming in the ocean: the tides can cause unpredictable currents. Therefore, only swim in bays and monitored beach sections.
9. An inflatable buoyancy gives you more security
With a Restube on your hip, you'll always have extra buoyancy with you. Just knowing that you or your loved one will have a Restube buoy with a pull on the trigger will definitely relax your mind. So you no longer focus on the fear, but on the beautiful experience in the water.
How Restube works in detail and what advantages the little yellow buoy offers, we explain in the text below.
10. Have fun
Being in the water should be a pleasure. So do not put too much pressure on yourself and trust your feeling. In case you feel discomfort at any time, swim back to land!
Restube: a buoy relaxes you and brings safety
Restube means safety in the water. It is your back-up tool that relaxes you and makes you feel good in open waters. Yet, Restube is packed so small, light and sturdy that you can always wear it while swimming or doing water sports. If it comes to a situation in which you want uplift, a pull on the trigger and the Restube buoy inflates in seconds. If you lean over the buoy, the buoyancy is big enough to keep your head above the water and thus the airways free. You will gain time to rest, take a break, and orient yourself in the water. And most important: you do not panic! If you need help in the water, you can wave and get attention with the yellow buoy. If someone needs help, you just pass on Restube and do not endanger yourself while trying to save the person in need. You can drag the Restube buoy effortlessly behind you and even diving through waves is possible. Restube is equipped with a new CO2 cartridge easily and can be reused immediately. You can also inflate Restube with your mouth anytime.

By the way: Restube has been developed in cooperation with rescue organizations and professional athletes in Germany. The material and all components are designed very robust, so you have a lot of fun with your Restube for a long time.
"Restube is a security product for everyone! Anyone who likes spending time at or in the water enjoys more safety and freedom through the small buoy. Incidentally, Restube is also ideal for children (recommended for children over the age of 10 years). For water sports enthusiasts such as kite surfers, SUP paddlers, surfers, snorkelers and boat riders, the minimalist product is often already part of the basic equipment. There are four different variants of Restube, which differ in small details and are thus optimally adapted to the field of application. An overview of all products can be found here."

Christopher Fuhrhop

Founder & CEO of RESTUBE
We wish you a good time in the water!
Your RESTUBE team