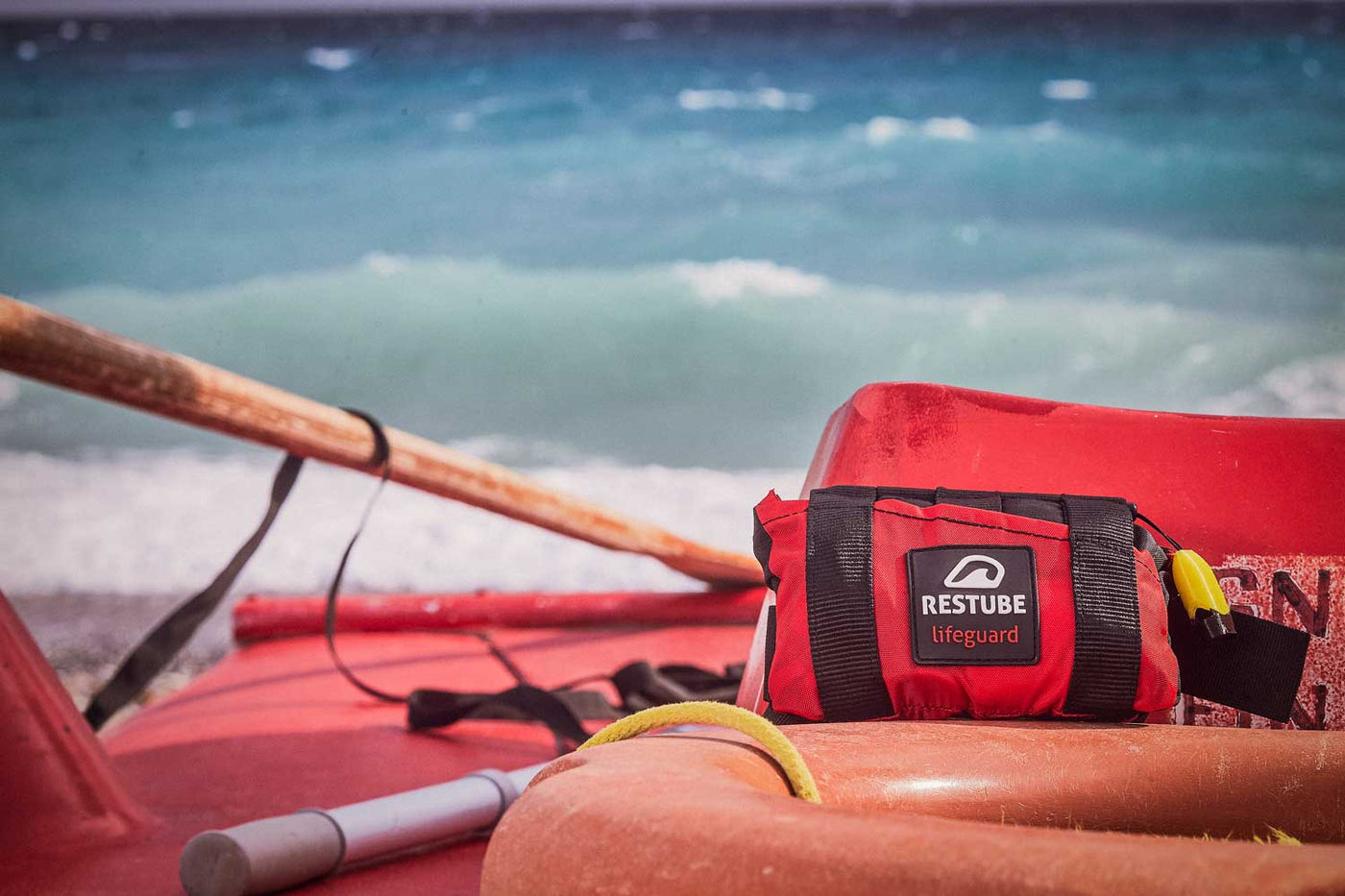 RHEINSTRANDBAD RAPPENWÖRT
The wave pool at lido Rheinstrandbad Rappenwört has a great attraction for swimmers of all ages, but the waves are sometimes somewhat underestimated. That is the reason why the lifeguards are on duty every year to ensure the safety of their visitors. The Karlsruhe start-up RESTUBE has developed a small, versatile safety buoy to support lifeguards in their work in dangerous situations.
The Rheinstrandbad Rappenwört is one of the largest and most scenic open-air swimming pools in Germany. With its many swimming and leisure pools and a total area of 16 ha, it is beautifully situated directly on the Rhine. In addition to the diving platform, adventure pool and generous water landscape, the wave pool in particular enjoys great popularity. However, the waves are sometimes considerable, so that it can happen that bathers overestimate their strength or underestimate the waves. For such cases, the lifeguards of the Rheinstrandbad are well trained and constantly on duty to give bathers more safety when bathing.

After many requests from rescue professionals, the Karlsruhe start-up RESTUBE has developed Restube lifeguard in cooperation with the SLRG (Schweizer Lebens-Rettungs-Gesellschaft) in addition to the existing version for self-protection, which is interesting for all water sports enthusiasts. This is so small that it does not interfere with carrying, but always provides the necessary buoyancy for use with only one strong pull. The yellow self inflatable buoy inflates in seconds. The lifeguards at the Rheinstrandbad Rappenwört has also been using the globally successful innovation from Karlsruhe since this summer to offer bathers even more relaxed leisure time thanks to greater safety.