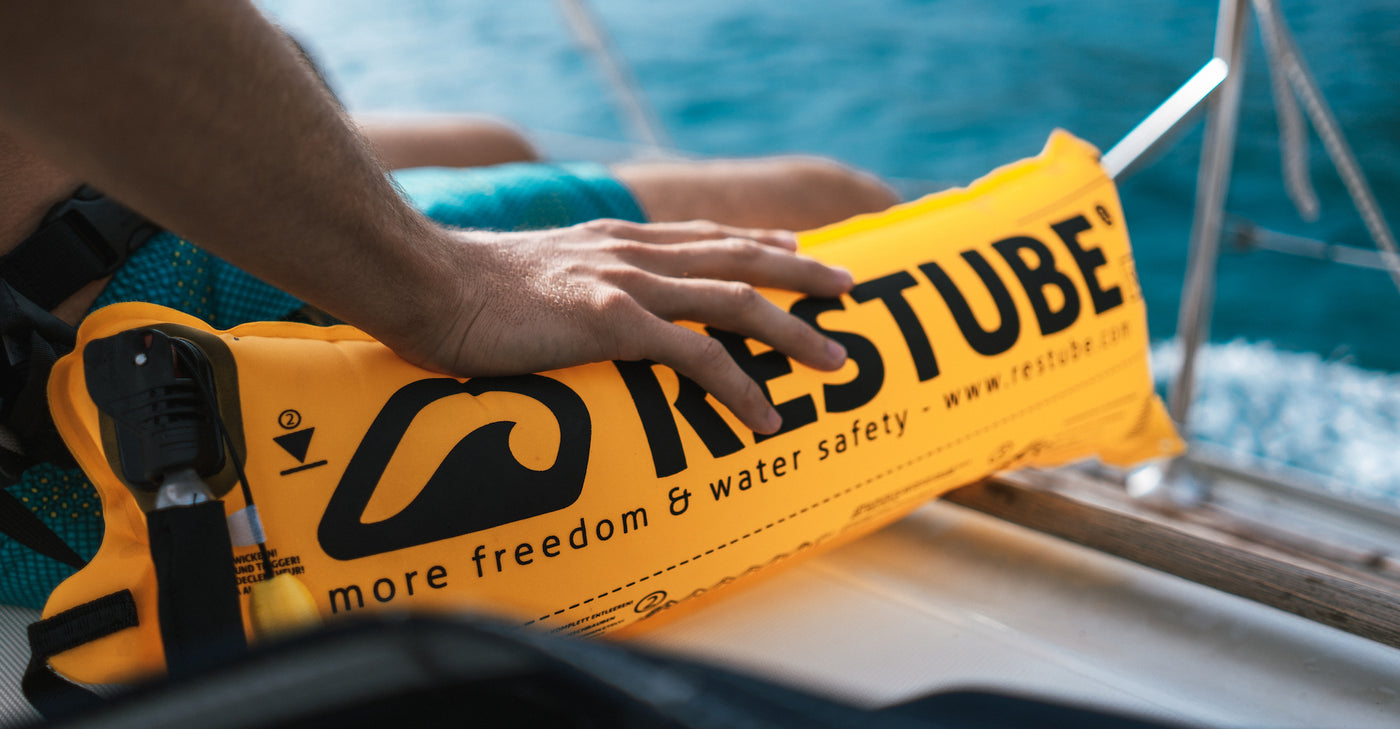 Restube Product Collection
All the information you need
Learn about your Restube
What is Restube?
Restube is a product for more safety in the water. Small, lightweight, and super compact, Restube is always with you for your own safety or the safety of others. Simply strap the pouch-packed inflatable Restube buoy around your waist or to your equipment and head for the water. If necessary, pull the trigger hard and the yellow Restube buoy will inflate in seconds using a CO2 cartridge. If you lean over the buoys, your head will rise out of the water. You'll then have time to get your bearings and regain your strength. Restube is perfect to carry buoyancy for yourself or others and enjoy freedom during your water activity.
How is Restube used?
Restube is worn comfortably stowed in its pouch on a strap around your waist or attached directly to equipment. For more freedom and safety in the water. A pull of the trigger inflates the yellow Restube buoy in seconds. You can lean over the buoy and your head will remain relaxed above water. If you want to draw attention to yourself, just wave the buoy. Restube can be reused by inserting a new cartridge. By the way, you can also inflate Restube by mouth at any time. This comes in handy especially when you want to drag the buoy behind you for visibility while swimming or snorkeling.
Where can you buy Restube?
All Restube products are available here at restube.com. You can also buy Restube in an increasing number of sports stores. Ask your trusted retailer! Many retailers are listed on our Store Finder. You can also email us with your location to find out about one of Safety Partner events near you. Restube is available to try out and purchase at all of our Safety Partner events. Contact us: hello@restube.com
What is Restube used for?
Restube means extra buoyancy whenever you need it. You can use Restube for almost all activities in and on the water. These include swimming, stand-up paddling, open water swimming & triathlons, wind, kite, & normal surfing, snorkeling, scuba diving, rowing and kayaking, and fishing. Restube is also suitable for families with children and recommended for ages 10 and up. If children are equipped with Restube while swimming, they can have more fun in the water and parents can enjoy more relaxation. Restube means "peace of mind". Restube is not a substitute for a life jacket. Please always review local regulations to find out whether wearing a life jacket is mandatory during your particular activity and/or while on bodies of water.
Are there different sizes of Restube?
There are three different Restube models for self-protection. Restube beach is suitable for recreation and for families. The buoy is 50 cm long and provides enough buoyancy for an adult or a child in swimwear. When the buoy is inflated, the buoyancy is 50N, which amounts to about 5 kg. Restube active is designed for versatile and athletic use. The Restube buoy is 65 cm long and provides 75N of buoyancy. The buoy is suitable for an adult of any stature - even if the person is wearing a wetsuit, for example, when skiing or kiting, or waders, while fishing. Likewise, Restube extreme offers 75 cm in buoy length. Because this version is designed for particularly harsh conditions, it also features a split pin closure and extremely durable buoy material that can withstand the harshest external conditions. In addition, there are two models for rescuing others: Restube automatic and Restube lifeguard. They are used by lifeguards, firefighters, and police around the world. The pfd by RESTUBE is the smallest certified buoyancy aid within the 50 N class.
How much does Restube cost?
The price of Restube varies by model, which differ in terms of their specifications and are tailored to specific usage scenarios. The Restube models for self-protection: Restube beach is focused on the essentials and costs 49.95 Euros. Restube active comes with additional features such as an integrated signal whistle and convenient horizontal and vertical attachments option and costs 89.95 euros. Restube extreme, the model for harsh conditions and made of extra robust material with a split pin closure, costs 99.95 Euros. On special occasions there are discounts on selected products. Sign up for our newsletter and don't miss out on any discounts!
How does Restube inflate?
Restube is small and lightweight, so you always have it with you for your safety and the safety of others. With just one pull of the trigger you can release the built-in CO2 cartridge and the Restube buoy inflates in seconds. Back on land, the CO2 cartridge can be swapped out and replaced with a new one. Restube can then be used again immediately. You can also inflate Restube at any time through the mouth valve. This is recommended if you are carrying the buoy with you for visibility while swimming or snorkeling. This way you don't have to trigger the cartridge.
What models are available from Restube?
RESTUBE can be divided into models for private use and models for professional rescue. Restube beach, Restube active, and Restube extreme are intended for private use. They differ in their specifications and are designed to perfectly suit different application scenarios. The pfd by RESTUBE is also designed for self-protection. It is the smallest CE certified buoyancy aid and is especially suitable where a 50N buoyancy aid is required. Restube automatic and Restube lifeguard are available for professional rescue. Both of these models are used by lifeguards around the world, as well as police and firefighters. Not sure which Restube is right for your activity? Take the Restube quiz and find out which Restube works for you in just a few steps.